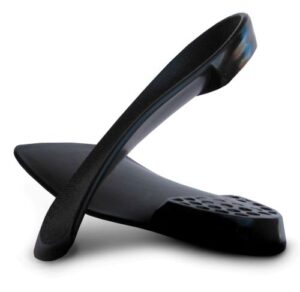 Free Pair of P3 Prefabs and a 10% Discount
Designed by podiatrists using evidence-based research, P3 Prefabs are functionally corrected and incorporate control features previously found only in sophisticated custom orthoses. Why not try a pair for yourself? Place a P3 Prefab order between June 20-July 31, 2022 and receive a free pair plus a 10% discount.* Simply click on the button below to download an order form.
You can view all our P3 Prefab styles and descriptions here.
New to ProLab? You can become a client by completing this short form.
*This limited-time offer is for medical practitioners only. Valid for new P3 orders received between June 20 – July 31, 2022. One free pair per account.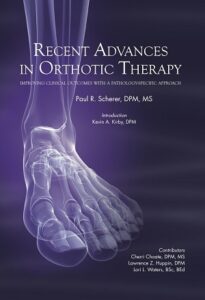 Chapter 10 – Prefabricated Functional Foot Orthoses: Validity and Efficacy
In this chapter of Dr. Paul Scherer's luminary text, Recent Advances in Orthotic Therapy, he takes a deep dive into prefabricated orthoses. Dr. Scherer reviews the literature on the effect of various prefabricated orthoses on certain foot pathologies. The conclusions are supported by twenty-eight references.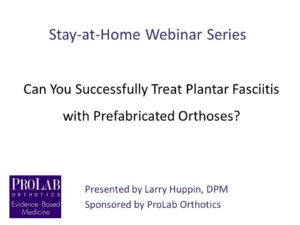 Free Video - Treating Plantar Fasciitis with Prefabs
Dr. Larry Huppin, ProLab Medical Director, discusses how to successfully treat plantar fasciitis with P3 Functional Prefabs. The goals of this video, include:
Review of the pathomechanics of plantar fasciitis
Establish the validity of mechanical control for treatment
Determine the best orthotic parameters based on research and pathomechanics
ProLab is known for its exceptional custom orthoses, evidence-based approach to orthotic therapy, and DPM Medical Consultants.
If you want the best outcomes for your patients, partner with ProLab.